Advanced Bio-Tuning
®

 Practitioner Intensive Course
This Practitioner Intensive Course provides multiple means of assessing health concerns of an individual. It elucidates ways of individualizing a person in a holistic manner by integrating singular methods in relationship to the whole. The understanding and inter-connectivity of the methods offered stimulate life-energy / the bio-organic intelligence / the Inner Physician. Each is addressed separately with its relationship to the whole or to that aspect of the whole most prominent. The course will provide experiential understanding of the approaches to integrate a true Holistic approach into one's clinical practice.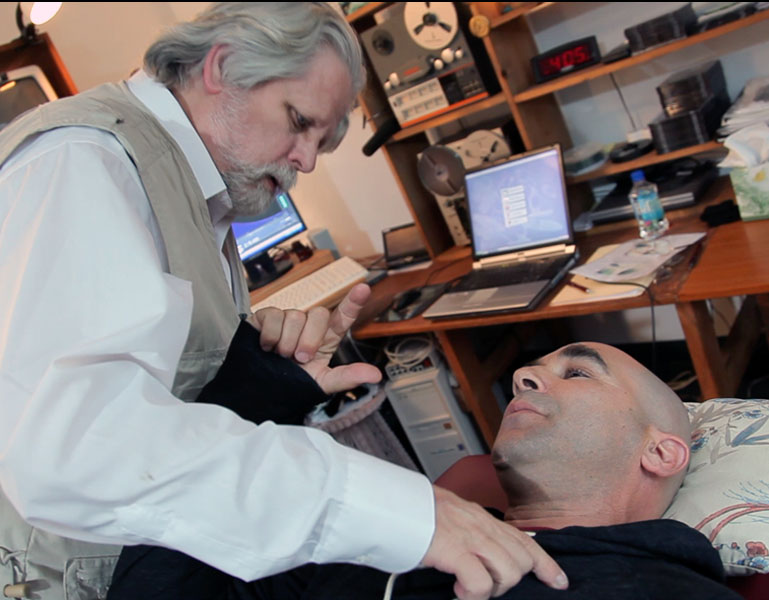 Ability to describe "entrainment" and how it affects states of consciousness.
Understanding the need for and the inter-connectivity of proven clinical methods to locate causality and help remediate the cause.
Ability to professionally and objectively evaluate an individual in a holistic manner.
Use of testing procedures which accurately address all systems of the body.
Understanding the singular purpose of assessment tools, the methods needed to stimulate and assist, calm and relax, and the inter-connectivity of each.
Recognition of the individuality of the person and to individualize a therapeutic and growth-producing approach for the individual, empowering each as needed.
"I have intuitively known for quite some time that sound is a powerful gateway to bring a person into balance on all levels. My experience with Dr. Jeff in this 2-day seminar was quite expansive. He has mastered communicating "mind-blowing concepts" into understandable language. Sound therapy will fit into my practice in that I can now assist my clients in moving beyond symptoms and move myself beyond simply working on symptoms week after week. Thank you."
Overview of Holistic Healing
Brainwave Entrainment and the Mind/Body Connection
Applied Kinesiology & Related Testing Procedures
Cranial-Sacral Systems/Structures/Muscular Systems
Bio-Magnetics and Organ Functioning
Acupuncture with Magnets
Post-Ganglionic Energy/Chakra Centers
Emotional Testing Procedures
Pain Control, Memory, Learning
Pre-requisites for the HPC Intensive:
Understanding of Applied Kinesiology by license or profession and/or a certificate of attendance/proficiency for Module 1 & 2 of the Touch for Health Program or a like certificate for Level 1 of the Eden Energy Course, submitted at time of registration.
An active Healthcare Practice and/or Clinical Experience is highly recommended.
Completed Registration Form with submission of the Kinesiology certificate.
Advanced Bio-Tuning
®

 Practitioner Intensive Course
Registration and Fees
Tuition Fee Rate– $1,800.00
FILL OUT THE FORM BELOW TO REGISTER AND PAY FEES ONLINE
or Download PDF FORM to MAIL IN PAYMENT AND REGISTRATION.
DOWNLOAD MICROSOFT WORD OR ACROBAT PDF VERSION OF
FORM to MAIL IN PAYMENT AND REGISTRATION.
Registration is required and this completed form must be returned by e-mail or mailed to
CENTER FOR NEUROACOUSTIC RESEARCH 2888 Loker Avenue East – Ste 106, Carlsbad, CA 92010
CNR reserves the right to cancel any class due to circumstances beyond its control. Such circumstances may include, but are not limited to acts of God, military action, a presenter absence or illness, etc. In the event of such a decision, the extent of any Sponsor's liability & that of any person associated with the Course shall not exceed the tuition paid by a participant. The tuition fee will be refunded to each as paid, as quickly as possible. Refunds may be given prior to 2 weeks before an Intensive & one week with verification of an emergency. No refunds before, during, or after any Intensive or course and no refunds of any software, hardware or any other item will be refunded for any reason. Prices may change without notice. Prices in effect at the time of payment will be honored. By your signature below, you acknowledge your understanding & acceptance of the above & look forward to the Intensive(s) & use of the HPC knowledge &/or Bio-Tuning® Program as intended.