The Bio-Tuning® System uses your personal Fundamental Frequency™ for healing and growth purposes. In each phase of the Bio-Tuning® process, you hear and feel your vibration and frequency, each segment working to balance and re-train the nervous system into a new level of neuro-synergy, a deeply centered state of homeostatic adaptive functioning. Homeostasis is the Zero-Stress State of the Autonomic Nervous System where the Sympathetic and Parasympathetic are in a state of equilibrium and balance. The state of Homeostasis is a prerequisite for healing to begin in your body. This sound portion of your session is recorded for you as a digital audio file, utilizing our advanced sound technology. You then use this program every day at home, to continue the balancing effects on a daily basis. We are creating a "Learned Neurological Response" in the nervous system and the brain – like going to a gym on the inside- to re-train your brain's control systems back to normal function. Healing comes from within when the system is not blocked from doing so.
Bio-Tuning® is specific to each individual and goes to the cause of dis-ease in general: inability to get out of a vicious cycle of a run-away stress response in the brain and nervous system.
The Bio-Tuning® System represents the most advanced, scientific Sound Healing System in the world today. This system combines a  Real-Time Heart-Rate Variability System (a gold standard in medical monitoring), Advanced and patented sound generating software for generating precise frequencies accurate to 2 decimal points, advanced and patented brainwave entrainment technologies, Primordial Soundscapes in 3-D, Patented Low Frequency delivery systems: Sound Tables and Sound Chairs…and more.
"Bio-Tuning synchronizes all parts of the body for improved health and healing."
Dr. Jeffrey Thompson
Inventor of The Bio-Tuning System
Dr. Jeffrey Thompson's PATENTED
BIO-TUNING SYSTEM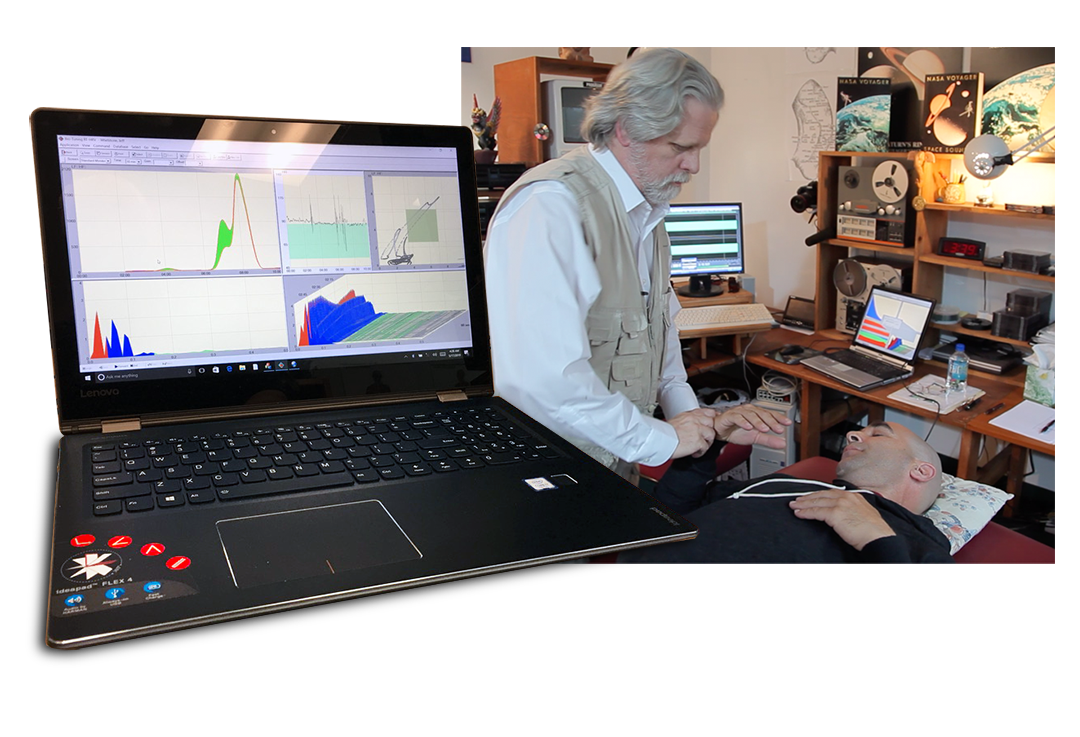 The Creator of The Bio-Tuning Automated system
Dr. Jeffrey Thompson Unleashing the Body's Inner Physician for Healing
Dr. Thompson is the Founder/Director of the Center for Neuroacoustic Research in Carlsbad, California, a research center which is actualizing its vision of "Healing the Body*Heart*Mind and Spirit through the Scientific Application of Sound." Dr. Thompson is considered the world's premier sound healing researcher, brainwave entrainment expert, and high-tech personal transformation innovator, motivator and futurist. He is a physician/ musician, composer, inventor, educator and author. His work addresses harmony between the body/mind/spirit and is clinically proven to foster deep personal wellness and expansion of consciousness. Certified in multiple healthcare modalities, Dr. Thompson draws people nationally and internationally to his clinical practice and to his cutting-edge auditory, kinesthetic and visual therapeutic products and services.