Dr. Jeffrey Thompson
"Healing the Body, Heart, Mind and Spirit with Sound"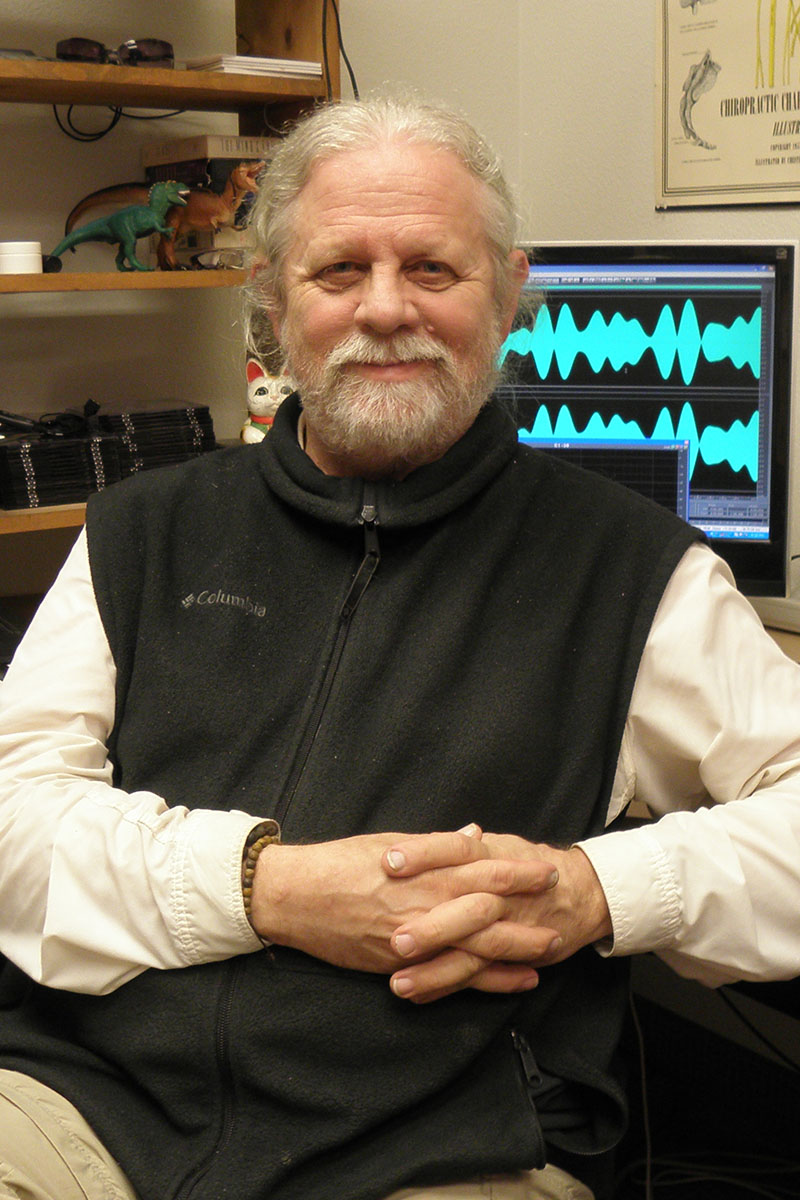 Dr. Jeffrey D. Thompson,
D.C., B.F.A., C.N.S.T. Diplomate
Dr. Thompson is the Founder/Director of the Center for Neuroacoustic Research in Carlsbad, California, a research center which is actualizing its vision of "Healing the Body*Heart*Mind and Spirit through the Scientific Application of Sound." Dr. Thompson is considered the world's premier sound healing researcher, brainwave entrainment expert, and high-tech personal transformation innovator, motivator and futurist. He is a physician/ musician, composer, inventor, educator and author. His work addresses harmony between the body/mind/spirit and is clinically proven to foster deep personal wellness and expansion of consciousness. Certified in multiple healthcare modalities, Dr. Thompson draws people nationally and internationally to his clinical practice and to his cutting-edge auditory, kinesthetic and visual therapeutic products and services.

Chiropractic Expertise
Dr. Thompson has been experimenting with sound scientifically since 1980. He first started in a Holistic Health Center in Virginia which he bought and which grew to be the largest Center of its kind in Virginia at the time. After experimenting with his wife and friends, he began using exact sound frequencies to make Chiropractic spinal and cranial adjustments, to stimulate and normalize organ function and to balance Acupuncture Meridians. He developed a very gentle and effective method of making adjustments, which he continues to use today. He is the creator of the patented and greatly appreciated Bio-Tuning® program wherein he uses one's own voice to stimulate and facilitate Self-healing. This program and his certification and expertise in multiple healthcare modalities, draws people nationally and internationally to his clinical practice and to his cutting-edge auditory, kinesthetic and visual therapeutic products and services. His holistic and gentle, effective methods see great results.
Musical Expertise
Dr. Thompson has been a pioneer in the field of therapeutic sound since the early 1980's, as mentioned above. (See Medicine for the New Millennium) He is world-renown for his clinically proven mind/body harmonious brainwave entrainment programs for sleep enhancement – physical, mental and emotional healing – memory and learning – and other areas of personal growth, through the scientific application of sound. He is recognized as a worldwide expert in the field of acoustic pacing frequencies incorporated into his composed musical sound tracks. A consummate musician and composer in his own rite, he has established a method for using modulated sound-pulses for changing states of consciousness for optimal "Mind-Body" healing and personal, frequently transformative, growth.
Therapeutic Audio Programs
Dr. Thompson's first recording, Isle of Skye, was carried by major music distributors in the US within its first month of release. Within the first six months, it was adopted by the American Hypnotherapy Association for its use in hypnosis and continues to be used by multiple Hypnotherapists today. Since his first album, Dr. Thompson has generated more than ninety acoustic pacing compact disks and audiotapes sold globally, many of which have been best sellers at mainstream book/CD stores for many years. They are used by Holistic practitioners, including medical physicians, chiropractors, psychiatrists, psychologists, clinical social workers, massage therapists and other bodywork professionals as well as the general public. Each is created to offer every receptive listener something.

His Musical Soundscapes™ have been carried nationally in major stores and catalogs: Barnes & Noble, Borders, Sam Goody's, Tower Books, Waldenbooks, Nightingale-Conant, Nautilus, and many others. His well-received and effective Delta Sleep System CD Set was carried through national TV ads by Time/Life for two years and continues to be a best seller. His work with Brookstone, Inc. and other companies are carried in their respective stores and websites.
Educational Expertise
Dr. Thompson was a faculty member and continued his scientific clinical research at a graduate school and research center in Encinitas, California, for many years. He taught Behavioral Psycho-acoustics and Clinical Neuroacoustic Therapy courses, recognized by the State of California as part of the core curriculum for the Clinical Psychotherapy and Human Science Masters and PhD programs. He is a born teacher and continues to teach at various events and through sponsored seminars, workshops, intensives, internships and certification courses.
Collaborative Work
Dr. Thompson has worked with Deepak Chopra, has created many self-improvement tapes with Louise Hay, and has created sound programs for conferences with Bernie Siegel, Barbara Marx Hubbard, Bru Joy, and Susan Jeffers. He has worked with NASA and JPL with plasma-wave audio recordings from Voyager I and II and researched their effects on the subconscious mind for healing and emotional release. His work has been part of research projects at the Neuro-Psychiatric Center at UCLA and has been researched at the Royal Ottawa Sleep Research Center in Canada, as well as multiple other companies who license his sounds to complement and empower their offering to society. His work was chosen to be part of the nationally funded CSCAT (Center for the Study of Complementary and Alternative Therapies) Program at Duke University and the University of Virginia in the 1990s. His audio programs have been and are used with patients before and after surgery, and in various oncology/infusion departments and clinics. His patented Neuroacoustic/Vibroacoustic Sound Chair and Sound Table are used in medical and mental health clinics, wellness spas, professional and business offices, personal fitness clubs, and homes. He has played an active role in the Complementary-Alternative Medicine Research and Therapy Association at Scripps Hospital, San Diego, California. He continues to work with Fortune 500 and 100 Companies and other businesses as time permits.

Media Experiences
Dr. Thompson has appeared on Fox Evening News Los Angeles, CNN Worldwide Reports, numerous cable access shows, San Diego Channel 10 Evening News, Good Morning America and other media shows, as many as twenty in 2005 alone. He and his work have been featured in many magazines, including the San Diego Magazine, ELLE Magazine, Psychology Today, Body and Soul, HOW, Pen (Japanese), Mein Olein (Finnish), Mind-Body (Korean), and Spa Business Magazine (England). Many newspapers across the country have featured his work, including the Wall Street Journal. He is interviewed widely for internet-based radio shows, podcasts, books and magazines.
"Thank you again for a mind-blowing lecture at the AHMA conference - I'm sorry there wasn't more time for formal teaching, but you were very gracious to stay behind and answer so many peoples' questions. I wish I'd had lectures like that when I was in medical school. I look forward to attending your seminars in the near future. Until then, I am very interested in pursuing the possibility of using your sound chair and sound table in my wound healing clinic, even if it means buying them myself. I bought 5 of your box sets at the conference to get started with headphones, but I can only imagine how wonderful it must be to hear this music with your whole body."
"I have intuitively known for quite some time that sound is a powerful gateway to bring a person into balance on all levels. My experience with Dr. Jeff in this 2-day seminar was quite expansive. He has mastered communicating "mind-blowing concepts" into understandable language. Sound therapy will fit into my practice in that I can now assist my clients in moving beyond symptoms and move myself beyond simply working on symptoms week after week. Thank you."
KF, CA – Holistic Health Practitioner
"Working now with the CD set for a while, I becoming more and more aware of the beautiful possibilities to relax and entrain my brain. I did not expect this kind of impact, in this short time, not only of my way to analyze my thinking process, also the way I change in mind pattern. From the view of my work I'm able to find new (better) solutions, in matter of fact, the approach to complex scientific problems, finding a way in bilateral thinking going through different nervous systems. After having used the sleep & rejuvenation CD before bedtime, in the morning I'm sometimes being full of creative thoughts by using unexpected approaches. Thank you for that, and please forward my regards and my expression of honor for the outstanding work to Dr. Thompson."